Welcome to Graphic Services Web Orders
Moved to a new school or department? Don't re-register.
Just send us an email with your information and we'll get it updated to your new site.
ALERT!! Due to extremely high volume, Graphic Services due dates have been pushed back. We thank you for understanding that we are processing and printing as fast as we can!
If you have any questions, please give us a call at (760) 771-8624. We'll be happy to assist.
Welcome! This is your connection to online ordering from the Graphic Services Department.
You can place 3 types of orders:
Quick Copy (for school site/classroom instructional materials)

Printing Orders (for school and department use)

Store Orders
Orders are placed through approved, registered users and are subject to pre-determined site or department administrative approvals.
---

2 to 4 Days Turnaround
For School Use Only
Quick Copy allows easy ordering of classroom materials. Paper stocks and finishing options are streamlined and instructional materials are delivered within 2-4 business days from the order receipt date, depending on seasonal demands. Instructional materials are delivered on a daily basis via the District Warehouse mail delivery. You can attach your electronic files to the order form, or send hardcopy originals using white Quick Copy envelopes.
---
PRINTING
ORDERS:
For School and Department Use
Printing Orders are projects requiring a greater selection of paper stocks and/or finishing options. For help with ordering extremely complex jobs, please contact the Graphics Services staff. You can attach your electronic files to the order form, or send hardcopy originals using Inter-Departmental mail envelopes.
---
STORE
ORDERS:
Standard Print Requests of established items using product codes
Store Orders are for standardized site and department forms, documents, or supplies commonly used throughout the District. Many department forms are held in stock and usually ship in a couple of business days. Site forms and less-used department forms are produced as needed and usually deliver in 7-10 days.
---
Contact us:
Graphic Services
TEL: (760) 771-8624
FAX: (760) 771-8630

Questions on your order?
graphics.orders@desertsands.us
Get Started...In 3 Easy Steps!

In addition to the instructions below, please view our online tutorial here!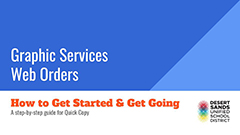 1. Get Registered
Registration is required to use this Web Order system. Click "Register Now" at the top and complete the fields (they're all mandatory). You'll receive a registration e-mail to which you must REPLY in order to advance the approval process.
Register once and only once. please. The process is not instantaneous and your work site needs time to approve it.
2. Get Approved
When your registration has been approved by your site, you will receive a notification stating that you can log into the system and...
3. Get Going
You can now begin submitting Web Orders!

When choosing a user name, we recommend using the same as your district login (first.last). Then just choose a password that you can remember!
---
How to Submit Your
Quick Copy Order (for Instructional Materials Only)...
Log in and select "Quick Copy" from the "New Orders" dropdown menu at the top.
Select Finish Size and follow the ordering steps.
Enter the Job Name of your order (i.e. "Teacher Name - Subject"), # of Sets, Format, # Sheets Per Set*, Paper Selections, and Finishing details.
You can attach a file to be printed; select "Yes" to upload a file, or "No" to submit a hardcopy.
Select an account number and confirm delivery information. Click Finish to submit your order and you're done! When your ordering process is complete, click on "Print Job Ticket" if you want a copy for your records.
If you have hardcopy originals... Print out the Job Ticket and attach it to the document. Send the document and ticket to Graphics Services using the Quick Copy envelopes.
Place order envelope in the Quick Copy Mail Bin, for the Warehouse to pick up from your site.
The completed print materials will be delivered within 2-4 business days via Warehouse Mail Service.
---
*Sheets Per Set excludes cover pages and may require some thought on your part. If you have 10 original pages, and want them to print 2-sided, you will need to select 5 sheets of paper. Sheets Per Set is the physical number of sheets of paper in the final product.
**Pop-up Windows – Your computer must be set to allow pop-ups. If not, there will be a yellow bar on the upper portion of the Internet Explorer browser window. Right click on the bar, and follow the steps to allow pop-up windows.
---